Tirecool, established in 2008, is China's first tire retail professional service chain with independent intellectual property rights and franchise rights. There are currently more than 50 stores in Beijing, Shanghai, Qingdao, Nanjing, Suzhou and other well-known cities, always pursuing the marketing concept of "True Brand, Really Low Price" to save car owners the cost and time of car maintenance.
Tirecool Automobile Service Chain has been successfully selected as the "2017 Top 100 Automobile Aftermarket Chain Leaders". AC Auto interviewed the chairman of Tirecool, Mr. Tim Liang, to share the new business model of Tirecool's successful management experience.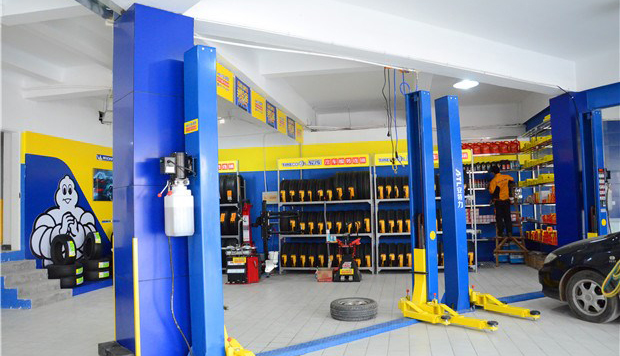 AC AUTO: Tirecool successfully borrowed from the business model of developed countries. How is it different from the traditional business structure?
Tim Liang: Many of our peers are 50% of the traditional car wash and car beauty business, and other diverse businesses are available. The business scope follows the industry trend, and there is no clear positioning for itself. Our service content is very clear, only quick repair, not overhaul. The main business structure of the Tirecool is: tire and brake business, accounting for 60%; minor maintenance and quick repair business, accounting for 35%; car wash and auto beauty business, accounting for 5%. The positioning of Tirecool is accurate and the business structure is clear, which is very different from the traditional business model.
We borrowed from the most profitable business model of 2C in developed countries: tire and brake business, accounting for 60%, minor maintenance and quick repair, accounting for 40%, there is no beauty washing abroad, we added 5% on this basis Wash beauty business.
AC AUTO: In addition to the business structure model, what sets Tirecool apart from its peers?

Tim Liang: Tirecool's special services: free tire repair, 24-hour rescue, free 32 full-vehicle inspection, won the praise of customers!

First of all, we have to subsidize one million each year on the service of free tire replacement. Not every peer can make up their minds to provide consumers with this service for free! This is regarded as a public welfare undertaking, which will benefit the majority of car owners. This service has established a good emotional bond between Tirecool and customers, and at the same time, this service has played a role in guiding the Tirecool and increased customer viscosity.
The second is Starry Night Convenience Service --- open every day until 22:00. This service allows more car owners to use their off-hours to maintain and escort cars in time. The business hours of Tirecool are delayed until 22:00. The owner can also call the Tirecool reservation hotline in advance to make an appointment to enjoy the professional service of Tirecool.
Finally, there is a 24-hour rescue service. Through the cluster effect of the city's stores, Tirecool will provide free rescue within three kilometers, as well as free body safety inspection services.
These special services are the key points to win the trust of customers! This is also an important reason for the high unit price of the Tirecool customers and the strong customer stickiness.
AC AUTO: Is the tire business your main profitable project? What are the advantages of minor maintenance and quick repair business?

Tim Liang: First of all, our tire business is doing very well. Among the direct retailers, our Tirecool should be the best in China; secondly, in terms of braking and small maintenance, our profit is also very good. Because of concentration, we are professional! We only do quick repairs and minor maintenance. Without major repairs, we have the energy to concentrate on the fast repair and fast maintenance business. We have a complete SOP system, which can better standardize and process, and customer service is more standardized, efficient and accurate.
AC AUTO: You said that "more" and "faster" is a trap. Please elaborate.

Tim Liang: It means that you can't "do more" and you can't do all kinds of business. You have to make trade-offs. If you do more, it seems unprofessional and has no unique characteristics. "Doing more", which is getting farther and farther from the professionalism, is also not conducive to the establishment of brands, so it is a trap. Lukku has also experienced the process of doing more, and has paid some price in this regard.
Many peers do everything from washing beauty, quick repairs, minor maintenance, major repairs, major maintenance, etc. I can do what others can do without clear positioning of themselves.
Simple, it is easier to copy, standardization and chaining. For example, KFC and McDonald's only make fast food, but not complicated food. The same is true for us, only quick repairs, not overhauls, which are too complicated.
"Fast" is also a trap, which means that it is not appropriate to expand the store quickly when the information management system and the team have not been set up. When the number of stores increases to a certain number, a strong management system and operational capabilities are needed to support it. In addition, the background must be set up, otherwise the financing will be exhausted and it will be out of control. The replication of the store takes time to polish!
AC AUTO: The industry is advocating streamlining of supply chains. What are your thoughts on supply chain management?

Tim Liang: In terms of business, our business is more streamlined and we only focus on certain products, such as tires and engine oil products. Because of our focus, we have been intensively cultivating and taking a lot of money. This makes TIrecool easily supported by the brand and the price is relatively low. In terms of systems, we invest heavily in building ERP systems. Because TIrecool's positioning is very clear, as long as it is repaired quickly and quickly, without overhaul, we have reduced from more than 10,000 SKUs to more than 3,000 now.

AC AUTO: There are industry players expressed concern about the loyalty of customers coming from online platforms. What's your strategy on this matter?

Tim Liang: Regarding the online extension strategy, such as WeChat marketing that everyone is doing, or using third-party platforms, Tirecool has also done it. The initial effect is okay, but the customer viscosity is not ideal. In the next step, we may consider cooperating with WeChat Pay and Alipay to start with the payment link and increase customer stickiness! In addition, our special service itself also improves the viscosity of customers and plays a role in drainage. It is the free tire repair, starry night service, free full vehicle detection, 24 hour rescue, etc.
AC AUTO: Are there plans to increase stores in the second half of the year? What are the obstacles in store operations?

Tim Liang: We expect to add 10 to 20 stores. The location of the store in a good location is currently the most difficult, because we have very high requirements for the location of the store; secondly, the problem of talents, how to stay after the training and training of employees after the 90s? The requirements for technician talents are better than major repair techniques Talent requirements are much lower. The store's dependence on technicians is low, and it is easy to be copied, which is why we are simple!

Source: AC Automobile